Best Available Translation Equipment Based Upon Latest Technology
Whether your business operates in one location, or you are constantly on-the-go, we offer the best simultaneous translation equipment. We carry both portable and desktop multi-channel systems, which always provide clear, reliable audio based upon the latest acoustic technology.
Thanks to our more than 20 years experience working with the most reputable brands in interpretation technology, our highly-trained professionals can help you quickly select the best translation equipment (FM or IR) for your needs at the most affordable prices.
Comprehensive Selection of Translation Equipment - Including Williams Sound, Listen Technologies, & Enersound
We offer the widest selection of individual and comprehensive translation systems for every budget, including brands such as: Williams Sound, Listen Technologies and Enersound. We provide a wide variety of accessories to make sure all your translation needs are met, including essential items such as a translation headset, microphones, charging docks, additional receivers and, ear buds.
Our simultaneous interpretation equipment, including translation headsets, are available for purchase worldwide. We offer free shipping on all domestic US orders and deeply discounted rates for international shipping. We aim to provide you with the most affordable translation equipment for your needs and are always running the best offers in the industry to ensure that you are receiving price.

Definition of Key Terms
Translation vs. interpreting:
Translators write, interpreters speak. If you are working with written documents, you need a translator. If you want to interact with people in a foreign language on the spot, you need an interpreter.
Interpreters:
Interpreters step in whenever people speaking different languages need to communicate with each other. They are trained to carry ideas from one language to another—accurately and efficiently. In the United States, professional interpreters can be federally certified for court interpreting or nationally certified for healthcare interpreting. They may also be state licensed, certified or qualified. For more information, visit www.ncihc.org and www.najit.org.
How do interpreters work?
Interpreting can be done in different ways, depending on the setting, how much time is available, how many languages are used, and whether or not technology is available.
(1) In consecutive interpretation, the interpreter takes turns with the other speakers. The speaker talks, then stops. The interpreter steps in to interpret, then stops. Note taking is important to ensure accuracy. This mode is used in interpreting by telephone, for many meetings, for some medical consultations and for certain court proceedings.
(2) In simultaneous interpretation, the speaker and the interpreter talk at the same time, with the interpreter lagging a few seconds behind the speaker. It is used in the United Nations, at multilingual conferences and in many courts. The interpreters may be in soundproof booths and the audience listens to their interpretation through wireless headset receivers that use a radio frequency or infrared technology. Simultaneous interpreters may also use a portable tour-guide system with microphones, transmitter and receivers. This system is used for guided tours or factory visits. Interpreters usually work in pairs in 15- to 30-minute intervals.
Floor, Source or Passive Language:
This is the language that your presenter or main speaker is talking in.
Target, Active or Translated Language:
The language that is being translated into is called the "active or target language" or "translation feed." There can be more than one target language depending on the complexity of your setup.
Simultaneous interpretation equipment:
This is the language that your presenter or main speaker is talking in.
At a minimum, the simultaneous interpretation equipment that you will need includes: headphones and wireless receivers for the audience and a transmitter with a microphone for the interpreter. It's advisable that the interpreter also have access to a headphone with the audio of the floor (speech to be interpreted) to ensure a better, more accurate interpretation.
For a more professional system, you may need soundproof interpretation booths (one per target language), interpreter consoles, and sound system (also called PA system).
Interpreter Booths:
For simultaneous interpretation you will normally need one booth per target language. The booths should conform to ISO 4043 (built-in) or ISO 2603 (mobile) booth standards. They should be sound-proof, have a silent ventilation system, placed in such a way as to give interpreters an unobstructed clear view of speakers and of the screen used for presentations, and allow them to gauge the reaction of participants.
Interpreter Consoles:
An interpreter console is used to adjust the volume and tone of the sound the interpreter hears, as well as to control the audio of the outgoing channel. The interpreter console has controls that allow the interpreter to activate or deactivate the output from his or her microphone and select the input and output channels. On professional systems, the interpreter console also interacts with the central control unit to allow the use of the relay function between different booths and the routing of the floor signals when the interpreter's microphone is deactivated.
There are interpreter consoles for a single interpreter and dual interpreter consoles for two interpreters working together. Depending on the number of foreign languages used in your conference or event and whether you use one-way or two-way interpretation (i.e. interpreting from English into Spanish and back from Spanish into English), you may need a bilingual or multi-channel interpreter console. A bilingual interpreter console is usually used for bilingual conferences or in multilingual conferences with one-way interpretation only. Bilingual interpreter consoles also have limited "relay" capabilities compared to the multi-channel interpreter consoles that have full relay capabilities.
Relay interpreting:
It is another term for indirect interpretation, i.e. rather than translate directly from the source language to the target language, an interpreter may work from a colleague's translation.
Relay interpretation can be justified at conferences using many languages where some interpreters do not understand all the working languages, or in cases where an exotic or rare language is spoken or required.
In relay interpreting, the pivot interpreter is the interpreter working directly from the source language, and whose translation will therefore serve as the basis from which other interpreters may work into other languages.
Headset Receivers:
(Also referred to simply as "headsets") The delegate's wireless listening unit. Most are multi-channel and allow the delegate to select from the available languages by turning a channel selector knob. The delegates control their own volume and on/off.
How Simultaneous Interpretation Works
(1) The speaker talks into a microphone.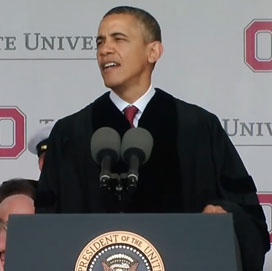 (2) The interpreter listens to the speaker through headphones, and speaks into a microphone to translate what is being said. The interpreter's voice is sent wirelessly to the audience through a transmitter.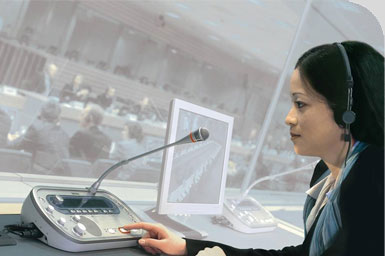 (3) The audience listens to the interpreter�s voice though a wireless receiver for a translated version of the original speech.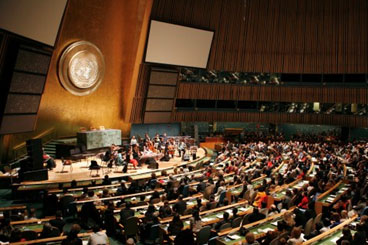 Choosing the Right System
The first step in the process of choosing the right equipment is deciding on the most reliable technology for your simultaneous interpretation needs is. There are two major technologies in simultaneous interpretation: FM (RF) and infrared (IR). FM technology is the most widely used and should be your first choice for price, simplicity of use, ease of installation, portability and wide coverage range. It can cover wide distances and penetrate walls. The most common frequencies for simultaneous interpretation are 72-76MHz and 216MHz.
Infrared equipment is usually used in meetings that require the highest degree of confidentiality and for conferences with more than 6 languages or multiple contiguous rooms. IR normally requires line-of-site.
An IR translation system is more expensive and bulkier (requiring modulators, emitters, mount racks, etc.) than an FM translation system and the set-up is more complicated.
Top Questions Before Buying Interpretation Equipment
Target Languages: How many languages do I need simultaneous interpretation for? This will determine the type and number of transmitters to purchase.
Audience Size: How many people require simultaneous interpretation? This will determine the number of receivers to purchase.
Country of Service: In which country will the simultaneous interpretation service occur? This will determine the frequency band needed and voltage.
Portable vs. Stationary: How portable do I need my system to be? Will the audience be moving around like in a guided tour or tour of factory or will they be seated in a conference room? All systems are portable, but you can choose a battery operated tour-guide system or a stationary professional interpretation system with booths and interpreter consoles.
Site Characteristics: What are the dimensions of the venue? Are there any contiguous rooms that require the interpretation? This will determine the equipment range, number of channels and type of technology to be used.
Budget: Depending on your budget, you can get a basic system or a complete professional simultaneous interpretation one with booths, interpreter consoles, and other accessories.
Event Dynamics: Is there a speaker addressing a passive audience, in which case a system with one-way interpretation will suffice or will there be an interaction with the audience as in a Q&A session, in which case two-way interpretation will be needed? Will there be a sole speaker or a panel of multilingual speakers?
PA System: Will a PA (also called sound system) be available? If it will not, additional equipment will be needed.
Other Helpful Resources
EnersoundOne of the top U.S. manufacturers of simultaneous interpretation, assisted listening and other audio and conference equipment.
Congress Network Corporation: It offers technological solutions for corporate clients, governmental agencies and military personnel, audiovisual and production companies, translation and iterpretation companies, houses of worship, and legal settings, schools and universities, and any other institution in search of reliable simultaneous interpretation and assistive listening equipment.
Transmeeting Corporation: Transmeeting Corporation is the premier provider of simultaneous interpretation and translation services. It offers a wide range of solutions for all your conferencing and language needs, including state-of-the-art equipment operated by highly trained technicians, qualified and experienced interpreters and written translation services in all languages and areas of specialization.
Contact US
If you have any questions, if you are looking for a product you don't see listed here, or if you want to discuss putting together a custom package for your company, please don't hesitate to call 1-888-878-8935 or email us.